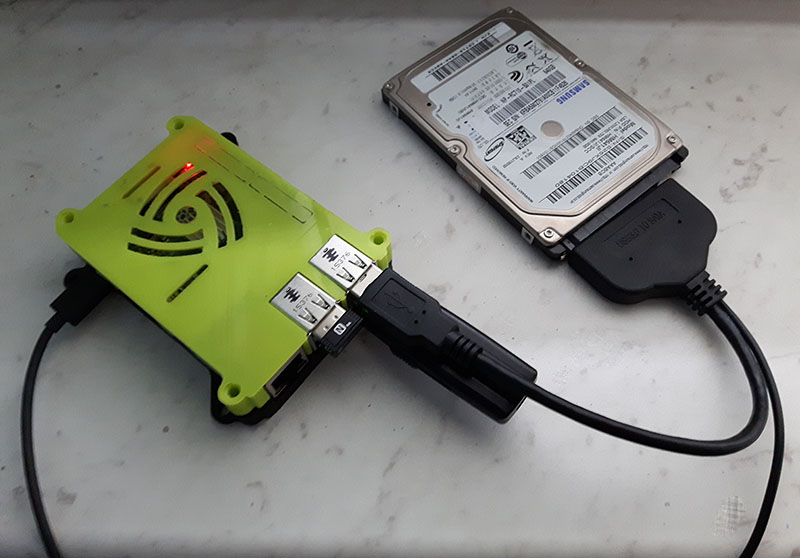 Pomysł, który od dawna świtał mi w głowie, to wykorzystanie Raspberry Pi 2 jako NAS – nie tylko w celu udostępniania plików w sieci domowej, ale przede wszystkim – jako "nagrywarka" filmów i zdjęć z kamery IP oraz tej kamerki, którą można dokupić do "malinki".
Wiem, że nie jest to super szybkie rozwiązanie – USB 2.0 podzielone pomiędzy podłączony dysk, kartę wifi i port ethernet (tylko 10/100 Mbit nawiasem mówiąc), ale do moich celów powinno wystarczyć. Satysfakcja z wykonania tego natomiast powinna zrekompensować niską prędkość:) Poza tym pora wykorzystać zakurzoną już malinkę w obudowie z drukarki 3D.
Tak więc podłączyłem nieużywany dysk 2,5″ z laptopa poprzez przejściówkę SATA/USB – najtańszą z allegro (około 10zł). Pierwsza reakcja – dysk nie chce się kręcić. No tak, malinka daje na USB tylko 500 (choć czytałem, że 600) miliamperów , a to zbyt mało, by rozkręcić dysk. Tu przychodzi z pomocą dopisanie do /boot/config.txt:
max_usb_current=1
Teraz dysk dostaje 1000mA (czy nawet 1200). Moja przejściówka USB/SATA znana jako "y" ma jednak dodatkowe wejście USB do podłączenia zasilania. Co ciekawe, podłączenie takiego kabla do dysku i do Raspberry powoduje, że Pi jest również zasilane od strony portu USB (tzw. back powering). Nie wiem, czy to dobre rozwiązanie, na pewno brakuje wtedy ochrony przez zbyt wysokim napięciem.
Na początku wszystko działało świetnie. Na dysku partycja ext4 (na linuksie jest szybsza niż FAT i znacznie szybsza niż NTFS). Uruchomiłem serwer NFS – moja kamera IP używa do zapisu tylko NFS lub FTP, oraz Sambę – żeby wszystko było widoczne w sieci domowej.
Prędkość zapisu/odczytu z sieci waha się w granicach 5-6 MB/s czyli całkiem przyzwoicie, wystarczy do obejrzenia filmu na TV. Niczego więcej mi nie potrzeba.
Po kilku dniach pojawił się jednak problem. Zupełnie bez powodu, po kilku resetach, prędkość dysku spadła do magicznej liczby 66 KB/s. Zwykła komenda "ls" kazała czekać 5 sekund na wynik. Po podłączeniu do PC tą samą przejściówką dysk działał dobrze, a na Pi stawał się tak wolny, że bezużyteczny. /var/log/syslog podaje tylko:
reset high-speed device number 5 using dwc_otg
Sprawdziłem inny dysk – dokładnie to samo, identyczna prędkość. Pomogło przełączenie dysku do innego portu USB w Raspberry. Ale tylko na jakiś czas. Teraz już na dwóch portach mam prędkość około 66KB/s, a na pozostałych kilka MB/s. Ciekawe – przecież w Raspberry jest tylko jeden kontroler USB. Czyżbym uszkodził fizycznie gniazdo USB? Włożyłem do "wolnego" portu pendrive – a tu niespodzianka. Prędkość na poziomie kilku MB/s.  Czyli z Raspberry wszystko w porządku. Wszytko działa też dobrze, kiedy podłączam inny dysk zewnętrzny z własnym adapterem SATA/USB i własnym zasilaczem. A więc winowajca odnaleziony – to tania przejściówka USB/SATA. Dziwne tylko, że na początku działa dobrze, a po jakimś czasie prędkość spada. Sama liczba 60-70KB/s może coś znaczyć – to przecież około 512Kb/s. Przyszło mi do głowy, że dysk działa w trybie USB 1.0? Ale tam jest 1,5Mbit…
Na koniec testów odkryłem coś ciekawego: kiedy do Raspberry podłączony jest jakikolwiek inny magazyn pamięci USB (np. pendrive) – wtedy moja wspaniała przejściówka z dyskiem działa jak powinna. W dowolnym porcie, pod warunkiem, że nie jest sama 🙂
Teraz wszystko działa bez zarzutu, sieć dostępna jest z całego domu a przez FTP zapewnię sobie dostęp z zewnątrz. Dodatkowo podłączam kamerę IP (wifi) która pokazuje obraz sprzed domu (transmisja 720p około 3000kbit/s po wykryciu ruchu) a mocy "malinki" wystarczy jeszcze na inne zastosowania.