Kreski 2003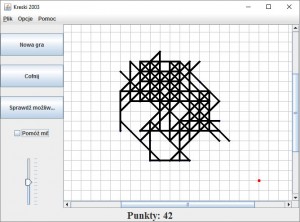 Kreski – prosta łamigłówka / gra dla jednej osoby, która wymaga tylko kartki w kratkę. Grałem w nią jako dziecko i dawno temu (w 2003 roku) zrobiłem wersję komputerową w Javie, a niedawno znalazłem na dysku:)
Gry nauczył mnie brat, który grywał w nią w latach 80-tych, chyba niewiele osób ją zna.
Chwilowo pobrać nie można, bo google stwierdził, że plik JAR jest "rzadko pobieranym plikiem" i może być niebezpieczny 🙂  Muszę ten problem rozwiązać, bo żal mi tej gry 🙂 Na niej uczyłem się Javy.
"Niektóre lub wszystkie pliki do pobrania w Twojej witrynie są nowe lub nie są plikami zwykle pobieranymi i Google ich nie zna" – oczywiście Google wie najlepiej, że taki plik to bardzo złośliwe oprogramowanie
Instrukcja
Przygotowanie gry: Narysuj krzyż z kropek jak na poniższym obrazku po lewej. Każda kropka musi znajdować się na przecięciu linii kratek. Każde takie przecięcie to pole gry.
Gra polega na rysowaniu linii poziomych, pionowych lub skośnych. Każda linia musi przebiegać przez 5 pól (czyli przecięć kratek), w tym przynajmniej przez 4 zajęte. Może więc przebiegać przez 4 wcześniej narysowane kropki i jedno puste pole. Takie puste pole jest więc zajmowane i kolejna linia może przez nie przebiegać. Linie mogą się przecinać lub stykać końcami.
Gra kończy się, gdy nie ma już możliwości narysowania kolejnej linii. Wtedy zlicza się punkty – czyli zajęte pola (przecięcia kratek, przez które przebiega lub kończy się przynajmniej jedna.
W grze dla ułatwienia możliwe do narysowania linie są zielone.