Podczas przeglądania projektów na thingiverse.com trafiłem na drony. Od razu wiedziałem, że to kolejna rzecz do zbudowania 🙂
Chciałem zrobić jak największy quadcopter – najbardziej stabilny i mogący unieść kamerkę. Wybór był prosty – największy możliwy do wydrukowania z gotowców to Crossfire lub Spyda 500. Oba mają rozstaw silników 500mm, ale wybór padł na Spyda500 – ze względu na większą dowolność w montażu elementów na "płycie głównej".
Tak naprawdę "dron" (to niezbyt poprawna nazwa, ale tak już się przyjęło, więc niech będzie) to wiele elementów, z których drukuje się tylko ramę. Rama to w tym przypadku cztery ramiona i dwie płytki w środku. Dodatkowo drukować można inne elementy montażowe, np. do zamontowania kamery. Nie jest wcale wielka oszczędność – gotowa  rama kosztuje 80-200zł, ale w razie wypadku wystarczy dodrukować zniszczony element i latać dalej. Jedno ramię drukuje się u mnie ponad 7 godzin, więc całość to kilka dni.
Kolejna sprawa to dobór elementów. Żeby quadcopter latał, trzeba obliczyć jakie silniki i inne elementy zastosować. Silniki muszą dać odpowiedni ciąg, ale jednocześnie waga nie może być zbyt duża. Obliczałem wszystko sam od zera, ale za pomocą tego kalkulatora.
To moja Spyda 500:
zasięg teoretycznie 2km (nie latam dalej niż zasięg wzroku więc kilkaset metrów).
w razie wyczerpania baterii lub utraty sygnału dron wraca na miejsce startu i sam ląduje.
można zaprogramować trasę przelotu na Google Maps.
maksymalna wysokość: duża:-) Nie latałem wyżej niż 150m ze względu na przepisy i ryzyko, oczywiście z dala od CTR, ludzi i zabudowań, a teraz jeszcze bardziej trzeba się dostosować do przepisów
prędkość – wyciąga 70km/h co przy tak dużym dronie jest dobrym wynikiem
podłączona kamera HD(Mobius) robi niezłe filmy, teraz dodatkowo mam stabilizację – 2-osiowy gimbal, który na bieżąco stabilizuje kamerę i utrzymuje ją w poziomie bez względu na pochylenie drona
lot od 7 do 10 minut, zależnie od prędkości
To Spyda500 w trakcie prac – już z montażem gimbala.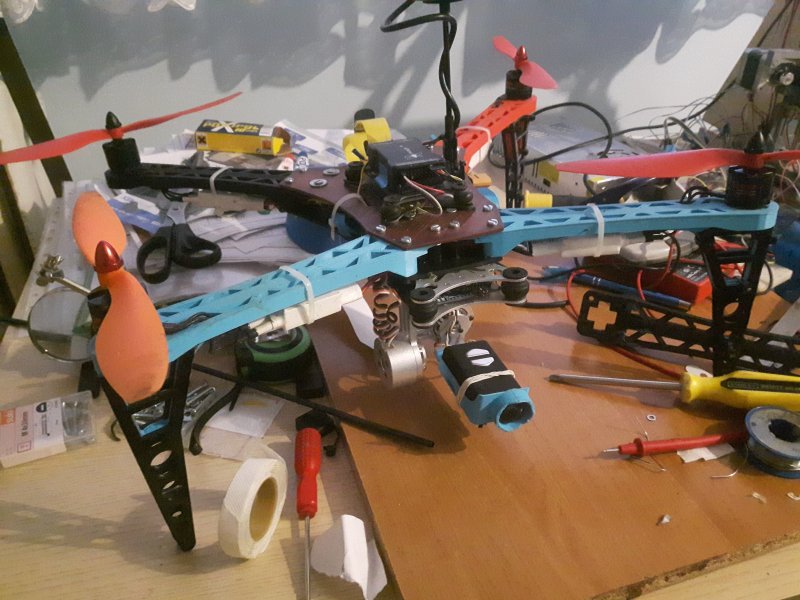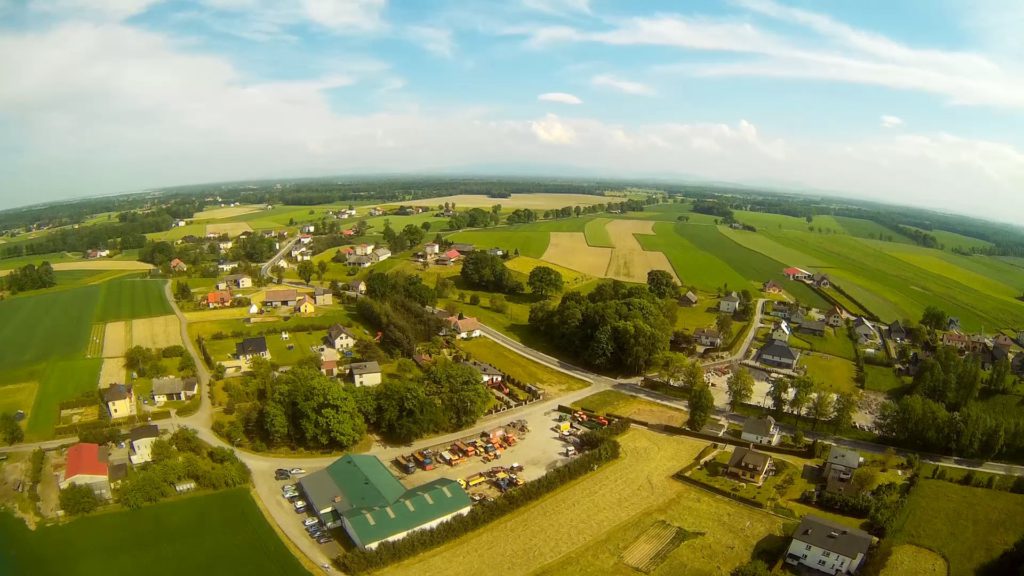 A powyżej widok z kamery z wysokości 100 metrów
Na początku byłem w tym temacie zupełnie zielony, a poniżej moja droga dojścia do sukcesu:)
1. Kontroler lotu
To komputer sterujący dronem. Wybrałem APM 2.6 – jest do dobry kompromis pomiędzy ceną a możliwościami, poza tym pasuje do moich zainteresowań – jest oparty o ten sam układ, co Arduino. Możliwości konfiguracji są bardzo duże, można nawet ustawić lot autonomiczny wg trasy ustawionej na mapie Google w dedykowanym programie. Na dodatek można kupić tani chiński klon – ja wybrałem APMPro, jest dużo mniejszy od oryginału. Oryginalne APMy już nie są produkowane, a ich następca Pixhawk jest znacznie droższy. Do APMa trzeba dokupić dedykowany odbiornik GPS z mocowaniem (zawiera też kompas – dzięki czemu jest on oddalony od elektroniki).
2.  Silniki bezszczotkowe
W zasadzie im większy dron, tym większe śmigła. Im większe śmigła, tym niższa powinna być szybkość obrotowa. Silniki do dronów różnią się głównie parametrem KV – jest to ilość obrotów na minutę na każdy 1V napięcia. Dla drona o tej wielkości i zakładanej wadze około 1,5kg idealny silnik powinien mieć 800-950 KV. Wybrałem najtańsze silniki EMAX MT2213 935KV. Małe drony wyścigowe mają EV powyżej 2000 KV.
Trzeba kupić po dwa silniki CW i CCW – czyli obracające się zgodnie i przeciwnie do ruchu wskazówek zegara. Różnica polega na tym, że w CW jest odwrotny gwint – dokręca się w lewo, aby podczas lotu nakrętka nie odkręciła się.
3. Akumulator
To bardzo ważna sprawa, bo akumulator sporo waży, trzeba wybrać kompromis pomiędzy pojemnością a wagą. Użycie zbyt dużego akumulatora spowoduje zmniejszenie czasu lotu bo dron będzie zbyt ciężki. Trzeba też od początku zdecydować się na konkretną ilość komór. Najbardziej optymalna i najczęściej używane w tej wielkości dronach to LiPo 3S (trzy komory 3,7V – napięcie optymalne 11,1V) ewentualnie 4S (14,8V) ale są znacznie droższe, na dodatek część dodatkowego sprzętu wymaga napięcia 11,1V więc dochodzą dodatkowe problemy.
Kupiłem akumulator LiPo 4500mAh – wg obliczeń powinien wystarczyć na 7-10 minut lotu.
Kolejna ważna sprawa to prąd rozładowywania. Cztery silniki przy dużych obrotach mogą pobierać nawet prąd o natężeniu kilkudziesięciu amperów. Mój akumulator LiPo ma wydajność prądową 20/30C czyli umożliwia stały pobór prądu 20C, a chwilowy 30C (30C * 4500mAh = 135A).
Do ładowania akumulatorów litowo-polimerowych niezbędna jest odpowiednia ładowarka. Akumulatory takie mają napięcie znamionowe 3,7V na celę (czyli akumulator 3S ma 11,1V). Ładować można do 4,2V, nie powinno się rozładowywać poniżej 3V. Nadmierne rozładowanie powoduje nieodwracalne uszkodzenie, a przeładowanie może spowodować zapalenie i pożar, tak samo, jak uszkodzenie pakietu. Na dodatek napięcie w poszczególnych celach powinno być podobne – dlatego ładowarka powinna mieć balanser – aby poszczególne cele były naładowane w tym samym stopniu.
Ładować należy pod kontrolą, a uszkodzenie czy też przeładowanie powoduje między innymi taki efekt  (film nie mój) i już niejedna osoba została bez domu czy samochodu. Nieużywaną baterię trzeba trzymać w odpowiednim miejscu, są specjalne torby "LiPo Safe" ale nawet one nie chronią w 100% tylko minimalizują rozprzestrzenianie się ognia. Ja akumulator trzymam w niepalnej piwnicy w nieużywanym grillu w torbie "lipo safe".
4. ESC czyli regulatory obrotów
– dla każdego silnika jeden ESC. Można  kupić cztery w jednym ale w razie awarii trzeba wymienić całość (a to kosztuje). Kupiłem niedrogie ESC ABC-Power z kontrolerami SimonK, 30A – więc ze sporym zapasem.
5. Aparatura
– tak w fachowym języku nazywa się urządzenie do sterowania, zwane przez niektórych pilotem  🙂 Tu ważne jest określenie ilości kanałów (a więc i ceny). Do podstawowych funkcji wystarczy 6-kanałowy, udało mi się kupić używany znakomity 8-kanałowy Turnigy 9xr pro. Tak naprawdę potrzeba:
3 kanały do obracania drona (yaw, pitch, roll)
1 kanał do kontrolu wysokości (throttle)
1 kanał do ustawienia trybu lotu: może to być tryb ręczny, bardzo wygodny althold (dron utrzymuje stałą wysokość, a ja kieruję), Loiter (dron utrzymuje wysokość i pozycję za pomocą GPS, odporny na podmuchy wiatru, bardzo łatwy), można ustawić uproszczone tryby, a nawet takie funkcje jak automatyczne lądowanie, czy przelot po wcześniej określonych punktach
Kolejne kanały nie są już niezbędne, można ustawić tryb "wracaj do domu", kontrolować położeniem kamery, wykonywać akrobacje itp. Tryby można ustawiać za pomocą programu do konfiguracji drona (Mission Planner) więc można to robić przed lotem.
6. Nadajnik i odbiornik.
Jak się okazało, aparatura nie zawiera nadajnika. Jest to tylko "pilot", natomiast urządzenie do nadawania sygnału wkłada się z tyłu. Trzeba więc kupić zestaw nadajnik(do aparatury) – odbiornik (montowany na dronie). Powinien mieć tyle samo kanałów, co aparatura. Trafiłem na znakomity FrSky 8XR która posiada również telemetrię  – czyli oprócz nadawania do drona, można też odbierać poszczególne parametry lotu – napięcie akumulatora, pozycję i inne. To jednak wymaga jeszcze jednego układu – a tego nie mam, więc na razie nie używam.
Nadajnik wystarczy włożyć do aparatury, a odbiornik podłączyć do APMa kabelkami GND, VCC, oraz jednym kablem sygnałowym na każdy kanał (są odpowiednio opisane). W przypadku mojego odbiornika mogłem wgrać oprogramowanie, które umożliwia podłączenie wszystkiego tylko jednym kablem sygnałowym (tryb CPPM).
7. Śmigła
Wbrew pozorom śmigieł nie da się wydrukować. Śmigła jednak kosztują kilka-kilkanaście złotych, można więc kupić ich zapas. Zasada jest taka sama jak z silnikami – im większy dron, tym większe śmigła. Małe śmigła nie uniosą ciężkiego drona. Zbyt duże – silnik nie da rady. Moje silniki mają proste zasady: śmigła 10 cali dla akumulatora 3S lub 8 cali dla akumulatora 4S. Tak więc dla mnie Śmigła model "1045". Tak samo jak przy silnikach trzeba kupić oddzielnie śmigła CW i CCW.
8. Kable i śrubki
Śrubki oczywiście dowolne, mój dron zawiera też mocowania w postaci trytytek oraz dodrukowanych dystansów. Natomiast kable – to już inna sprawa, do takiego prądu trzeba stosować kable o odpowiedniej grubości, najlepiej kupić w specjalistycznym sklepie, razem z pozłacanymi wtyczkami (goldpinami). Wszystko to trzeba po prostu solidnie przylutować i zabezpieczyć przed spięciami. Do dystrybucji prądu można użyć odpowiedniej płytki (i tak trzeba lutować), ja wolałem poprowadzić kabel i do niego dolutować inne ze względu na miejsce. Dodatkowo wygodne jest mocowanie akumulatora na rzepach.
I to już wszystko.
Zmontować, zlutować, przetestować bez śmigieł, a później z dala od budynków można już próbować latać. Tak na prawdę w takiej samoróbce trzeba jeszcze ustawić dużo parametrów: czułość reakcji na drążki, tuning parametrów lotu, ale satysfakcja z latającego quadcoptera, wyglądającego jak zlepek losowych elementów i plątaniny kabli, jest olbrzymia. Szczególnie, że efekt to dron porównywalny możliwościami i osiągami do gotowego modelu DJI za 2-3 tysiące złotych. Co więcej, gdy DJI spadnie lub o coś zahaczy, co prędzej czy później nastąpi, trzeba będzie wymienić obudowę. Ja na to – trochę plastiku, kilka godzin druku i znowu działa 🙂
Osobom zainteresowanym samym lataniem oczywiście polecę zakup "gotowca", gdyż zabawy z budową a szczególnie dopracowaniem i konfiguracją jest dużo.
Poniżej krótki film z pierwszego lotu, nie miałem wtedy pojęcia o sterowaniu. Jakośc kiepska, bo nie miałem dobrej kamery – tylko chińską kamerkę VGA. No i pierwszy upadek – na wysokości 50m spalił się jeden z kontrolerów silników.