Buduję własną drukarkę 3D: RepRap Prusa i3 Rework
Pewnego razu natrafiłem w sieci na informacje, jak można samemu zrobić drukarkę 3D (RepRap). Stwierdziłem, że to świetny pomysł – choć drukarka nie jest mi potrzebna do szczęścia, ale z pewnością jest to jakieś osiągnięcie i sporo zabawy:) Dodatkowo spodobała mi się możliwość wciągnięcia w ten pomysł dzieci – to naprawdę kreatywna zabawka, wystarczy spojrzeć na thingiverse.com, gdzie są tysiące przeróżnych projektów. Ja też miałem kilka pomysłów. Pamiętam, jak na studiach rozpoczynaliśmy projektowanie brył w CAD, nikomu wtedy nie przyszłoby nawet do głowy, że będzie można taki przedmiot po prostu wydrukować i to samodzielnie zrobioną drukarką.
Poradników na temat budowy drukarki RepRap jest dość dużo, ale w skrócie opiszę co i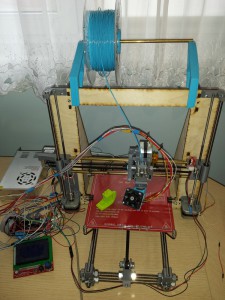 jak oczami amatora, a przede wszystkim na jakie problemy napotkałem i na co trzeba uważać – a zwykłe poradniki "krok po kroku" takich sytuacji nie przewidują.
Aktualnie drukarka jest sprawna, ale do ideału jeszcze trochę brakuje. Wydrukowałem już przedmioty z ponad 1,5 kg filamentu (to prawie pół kilometra!), z niektórych jestem bardzo zadowolony, inne wylądowały w koszu.
Na razie wszystkie kable są zbyt długie, luźne, powiązane taśmą izolacyjną, ponieważ mam jeszcze kilka pomysłów i kilka rzeczy chcę ulepszyć. Dopiero wtedy mam zamiar wydrukować obudowy i mocowanie dla elektroniki, wszystko porządnie zabezpieczyć i zamocować, a także przenieść drukarkę w inne miejsce.
Na początek drukuję filamentem PLA – biodegradowalne tworzywo, robione m.in. z kukurydzy. Najłatwiejszy w druku, nie wymaga tak wysokich temperatur (180-220°). Wady to niska wytrzymałość, jest sztywny ale kruchy. Przymierzam się też do ABS – to często spotykany rodzaj plastiku – wymaga wyższych temperatur (210-250°), ale trudniej nim drukować. Odkleja się od stołu i rozwarstwia. Na tej drukarce można też używać innych materiałów – imitujących drewno, gips czy też nylon, gumę (materiał elastyczny). Ostatnio pojawiają się nowe materiały – na przykład ulepszony ABS (smartABS), który jest łatwiejszy w druku, ale też kosztuje znacznie więcej.
Po prawej moja drukarka, zaznaczam, że wciąż ją modyfikuję. Poniżej film który robiłem na samym początku. Na filmie brakuje jeszcze kilku elementów poprawionych później – m.in. stojaka na rolkę z filamentem, chłodzenia wydruku.
Pierwsze pytania, jakie otrzymałem po zrobieniu drukarki od znajomych:
1.Ile kosztuje drukarka.
Nie wiem, dokładnych cen nie pamiętam, ale podczas opisu budowy spróbuję wszystko zliczyć mniej więcej. Najdroższe elementy to elektronika (prawie kompletny zestaw kosztował 50$), silniki, pręty, zasilacz. Dolar zdrożał, więc ceny sprzętu z Chin pewnie też poszły w górę. Postaram się zamieścić spis elementów – gdzieś taki zrobiłem.
2. Ile kosztuje i trwa wydruk.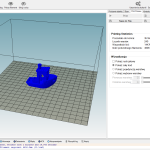 Na filmie widać stateczek – nazywa się 3DBenchy – to taki popularny test jakości druku.  Ma on ok. 6cm długości i niecałe 5cm wysokości z kominem.Wydruk w dość dobrej jakości (warstwa 0,2mm), w niskiej prędkości 35mm/s (czyli wolna, ale dokładnie) i przy 25% wypełnienia to 3 godziny 6 minut druku,  240 warstw, 4464mm filamentu.
Podnosząc jeszcze jakość druku – grubość warstwy do 0,1mm otrzymujemy: 5h druku, 479 warstw dokładnie tyle samo filamentu, czyli 4264mm.
W trybie szybkim (0,2mm, prędkość 60mm/s) – jakość jest akceptowalna ale na razie tylko duże przedmioty tak drukuję – wydruk trwa  2h15m.
Tak więc koszty dzielą się na:
Filament – rolka 1kg dobrego PLA to 80zł. 1 kilogram to ~330 metrów, a więc nasz stateczek kosztuje 1,10zł (1zł przy najtańszym filamencie).
Prąd – zmierzyłem pobór prądu, przeciętnie to 60-90 W, zależnie od temperatury podgrzewanego stołu. Tak więc wydruk statku to, powiedzmy, 0,08 KWh, czyli 4-5 groszy przyjmując zawyżony wynik.
Wypełnienie to powierzchnia wewnątrz przedmiotu, jaka będzie wypełniona filamentem. Przedmioty, które mają być trwałe (na przykład elementy drukarki), powinny mieć przynajmniej 50% wypełnienia. Ja do zabawek daję 15-25%.
Program do cięcia i druku podaje obliczoną ilość filamentu. Druk jednego z ramion quadcoptera Spyda500 którego aktualnie robię – około 18cm długości, to 7 godzin w trybie szybkim 0,2mm 20% wypełnienia (nie ma sensu robić tego dokładniej), 324 warstwy i ponad 16 metrów filamentu, więc sam koszt materiału wzrasta do 4 złotych (a to jedno z czterech ramion i do tego dwie płytki na środku drona).
ABS wypada cenowo podobnie, jest go nieco więcej na szpuli, około 400 metrów, gdyż ma mniejszą gęstość. Natomiast inne, jak LayWood czy LayBrick kosztują od 70zł za 250g.
3. Jaką wiedzę trzeba mieć do złożenia drukarki.
Właściwie niewielką. Trochę manualnych zdolności (skręcanie, łączenie, czasem trzeba coś przyciąć), umiejętność lutowania, korzystania z miernika prądu. Kilkanaście godzin na poskładanie tego wszystkiego i znacznie więcej na kalibrację i naukę.
4. Kolory?
Najprościej mówiąc: jeden wydruk, jeden kolor. Można zastosować podwójny ekstruder (dwie głowice), nawet w mojej drukarce, ale nie da się dobrze wykonać wydruków różnokolorowych. Do tego potrzebny jest naprawdę drogi sprzęt.
Po co w takim razie dwie głowice? Kiedy drukuje się przedmioty, których elementy mocno wiszą w powietrzu, trzeba stosować podpory, które odcina się po zakończeniu druku. To dlatego, że drukarka nie może nanosić warstw plastiku w powietrzu. Do pewnego kąta nie są one potrzebne. Można też stosować "mosty" – drukarka przewiesza linie filamentu w powietrzu, a później na nich drukuje. Czasem jednak nie obejdzie się bez podpór. Podpory są generowane automatycznie przez oprogramowanie, ale odłamywać lub odcinać trzeba je już ręcznie.
Jest natomiast materiał, który rozpuszcza się w wodzie. Wtedy właśnie druga głowica drukuje podpory tym materiałem. Po zakończeniu umieszcza się przedmiot w wodzie i po problemie. W prostych przedmiotach raczej nie jest to konieczne (ja dopiero 2-3 razy używałem podpór), co innego w bardzo skomplikowanych konstrukcjach z małymi elementami, gdzie ciężko byłoby takie podpory wyciąć.
5. Co z jakością, dlaczego są widoczne poziome linie, jaka jest rozdzielczość druku.
Właściwie pojęcia rozdzielczości nie ma (choć posługują się nią sprzedający różne drukowane przedmioty). Drukarka nanosi filament w sposób ciągły, przypomina to bardziej plotowanie, niż druk. Najpierw obrys (nawet kilkakrotnie) a później wypełnienie w zadany wzór (na przykład w kratkę). Po zakończeniu warstwy głowica podnosi się i "maluje" kolejną warstwę.
Sprzedający piszą też o rozdzielczości poziomej drukarki, np. 0,08cm. Ta teoretyczna rozdzielczość, czyli najmniejszy krok o jaki drukarka przesuwa głowicę, naprawdę zależy od ustawień mikrokroków  silników. To tylko chwyt marketingowy. Tą "rozdzielczość"  można zwiększać, ale to nie ma sensu bo jakości się nie poprawi – roztopionego plastiku nie da się nakładać z aż tak dużą precyzją, ważniejsza jest jakość wykonania i odpowiedni naciąg pasków zębatych.
Poziome linie widoczne w każdym wydruku to właśnie warstwy. Nie da się ich uniknąć. Przy odpowiedniej kalibracji drukarki (na przykład odpowiednia ilość podawanego filamentu i właściwa temperatura) są mniej widoczne, ale całkiem pozbyć się ich nie można. Przeważnie przedmioty użytkowe drukuje się warstwami o grubości 0,2mm. Jest to dobry kompromis pomiędzy jakością a szybkością – poza tym taka grubość warstwy daje dobre rezultaty w w najpopularniejszych głowicach o średnicach dyszy 0,3-0,4mm. Można zejść do 0,1mm, co daje bardzo dobre wyniki, ale długo trwa.
Jeśli drukuje się ABS-em, są sposoby na zmniejszenie lub pozbycie się linii warstw – na przykład trzymanie wydrukowanego przedmiotu w oparach acetonu, krótkotrwała kąpiel w nim lub też po prostu "malowanie" acetonem (aceton rozpuszcza ABS i warstwy wygładzają się).
Różnica w jakości druku polega na odpowiedniej kalibracji parametrów (prędkość, temperatury), poprawnym wykonaniu drukarki oraz jakości całego ekstrudera z głowicą i filamentu. Jest też dużo szczegółowych parametrów, które wpływają na jakość.
Jakość przedmiotów z druku FDM nigdy nie jest taka, jak z wytłaczarki, ale jest dostępna dla każdego.
Poniżej kilka moich pierwszych wydruków. Są to raczej małe elementy. W rzeczywistości wyglądają znacznie lepiej, gdyż na zdjęciach z lampą linie warstw są znacznie bardziej uwypuklone przez padające światło.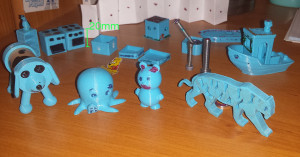 Poniżej część zestawu quadcoptera – elementy niebieskie i brązowy są z PLA (brązowy dał takądziwną fakturę), a czarny jest z ABS (ale to mój pierwszy wydruk tym materiałem). Uprzedzając pytanie, śmigieł nie da się drukować.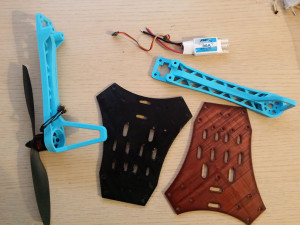 W następnym wpisie postaram się opisać w skrócie wybór modelu i potrzebne elementy (mam gdzieś listę z której zamawiałem).