Poziomowanie drukarki 3D to coś, co trzeba powtarzać co kilka wydruków. Jest z tym trochę zabawy. Tak naprawdę nie chodzi o to, żeby drukarka czy głowica były w poziomie, ale żeby odległość głowicy od stołu (heatbed) była taka sama w każdym miejscu. Trzeba opuścić głowicę nad heatbed na grubość kartki papieru, ręcznie przesuwać ją i sprawdzać, czy w narożnikach odległość jest taka sama. Papier powinien dać się przesuwać z wyczuwalnym oporem.
Oprogramowanie drukarki ma jednak możliwość przeprowadzania automatycznego poziomowania (auto leveling). Przed wydrukiem głowica przesuwana jest w wybrane miejsca i mierzy odległość. Zależnie od trybu są to na przykład trzy miejsca, a później obliczana jest wartość odchyłki dla całego stołu.
Pierwszą metodą, o której czytałem, było przymocowanie do głowicy ramienia na silniku krokowym, a na tym ramieniu zwykły mechaniczny endstop. W ustalonych miejscach ramię jest opuszczane, głowica obniża się tak długo, aż nastąpi zwarcie styków w endstopie.
Postanowiłem wybrać bardziej "nowoczesną" i prostszą w budowie metodę – użyłem czujnika zbliżeniowego. Ale i tu miałem do dyspozycji dwie możliwości:
– czujnik indukcyjny – reaguje na zbliżeniu do metalu.
– czujnik pojemnościowy – działa na dowolną powierzchnię.
Czujnik pojemnościowy odpadł ze względu na wrażliwość na zmiany temperatury, wilgotność, rodzaj powierzchni – a drukuję nie tylko na szkle, ale też na taśmie kaptonowej i malarskiej.
Indukcyjny czujnik zbliżeniowy
Czujnik indukcyjny wydawał się idealny. Niestety odległość reakcji na metal jest dość mała, a im większa, tym czujnik droższy. Ponieważ metalową powierzchnię umieszczam pod szybą (3mm), a czujnik powinien być wyżej niż głowica (żeby nie zahaczać o wydruk), musi mieć zakres minimum 10mm. Pierwszy jaki znalazłem niestety okazał się nieodpowiedni – nie zauważyłem, że ma tylko dwa przewody (VCC i GND) i odległość od metalu uzyskuje się ze zmian napięcia. To zupełnie nie nadaje się do drukarki. Znalazłem inny – nawet nie drogi, ale tym razem z trzema przewodami (VCC, GND i sygnał).
Model LJM30M-18N1 NPN NO. Urządzenie to ma odległość reakcji na metal 18mm, a więc znacznie więcej, niż potrzebowałem, kosztowało tylko 33zł, ale miało inną wadę, której nie zauważyłem przy zamówieniu. Czujnik był dość duży, na dodatek miał średnicę 30mm (gwint M30). Gdybym to bardziej przemyślał, wybrałbym nieco droższy, ale mniejszy i z mniejszą odległością "wyczuwania".
Prawdopodobnie wersja NC byłaby lepsza – przy jakimkolwiek problemie z podłączeniem lub samym czujnikiem stan niski powodowałby zatrzymanie poziomowania, ale wielkiego znaczenia to nie ma.
Żeby go zamocować wymyśliłem sobie podstawkę z dwoma dziurami na śruby, którymi głowica jest zamocowana do ekstrudera.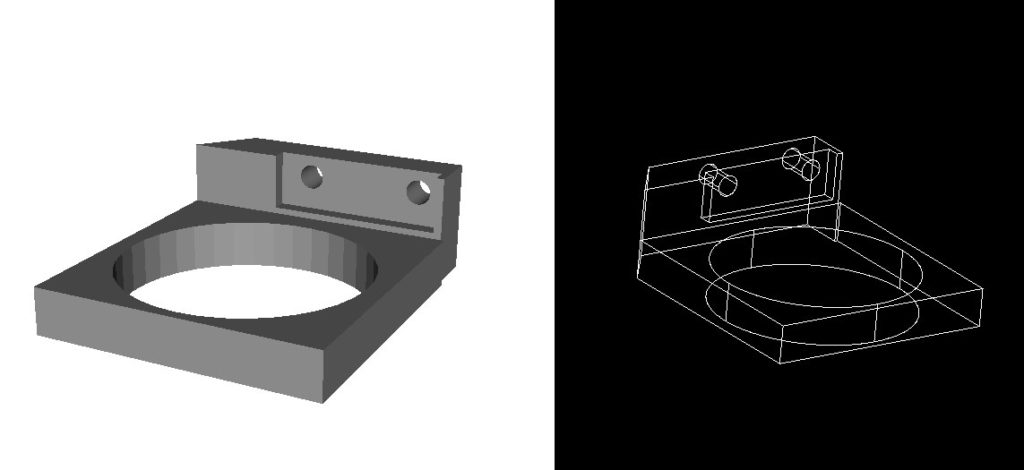 Kolejnym krokiem było podłączenie zasilania. Całość podłączyłem do płytki RAMPS w miejsce endstopu Z. Czujnik wprawdzie wymaga zasilania 6-12V, ale podobno wiele z nich działa na 5V, więc postanowiłem sprawdzić. W trzech miejscach pod szybą stołu podkleiłem aluminiową taśmę izolacyjną – taką srebrną samoprzylepną – wydawało mi się, że czujnik powinien ją łapać.
Niestety później okazało się, że są problemy z dokładnością. Niby kilka pomiarów pod rząd dawało takie same wyniki (plus minus 0,03mm), ale po kilku próbach odległość od szyby nieco zmieniała się, nawet o 0,2mm, co zupełnie nie spełnia wymagań dokładnościowych. Doszedłem do wniosku, że winne mogą być następujące czynniki:
Niezbyt sztywne mocowanie – od razu wykluczyłem to, wszystko trzymało się sztywnie, a przy próbnych testach nie miało prawa przesuwać się.
Zbyt małe napięcie – być może mój czujnik niewłaściwie pracuje na napięciu 5V. Wyczytałem w specyfikacji, że wraz ze zmianą napięcia zmieniają się parametry czujnika. Podłączyłem więc VCC i GND bezpośrednio do zasilacza drukarki (12V). Przewód sygnału (teraz także 12V) przepuściłem przez prosty dzielnik napięcia oparty na rezystorach.
Niewłaściwy metal – czujniki indukcyjne najlepiej działają na żelazie, z aluminium mogą mieć problem. I tu znalazłem problem- była nią samoprzylepna folia aluminiowa. Zastąpiłem ją również folią aluminiową, ale spożywczą. Przykleiłem ją do szyby od dołu taśmą dwustronną i od tej pory wszystko działa idealnie.
Po rozwiązaniu problemu aluminium wszystko działa jak należy, napięcie pozostawiłem na 12V skoro już zrobiłem taki układ. Odległość mierzona jest z wystarczającą precyzją i powtarzalnością. W razie potrzeby, stosując niebieską taśmę malarską lub kaptonową, mogę przed pocięciem obiektu dodać różnicę grubości w ustawieniach slicera.
Pod skrótem "1" ustawiłem sobie skrypt uruchamiający poziomowanie drukarki, nie trzeba tego robić przed każdym drukiem.
G1 Z10 F3000 ; podnosi głowicę
G28 X0 ; przesuwa do początku osi X
G28 Y0 ; przesuwa do początku osi Y
G32 S2 ; wykonuje automatyczne poziomowanie - pomiar i zapis w EPROM
Całość wygląda tak:
Problemem takiego rozwiązania jest to, że można przez nieuwagę zniszczyć heatbed. Jeśli coś źle ustawimy i głowica przy pomiarze nie trafi w metal, będzie się obniżać dopóki coś nie pęknie (szkło lub mocowanie poziomej osi). Pewnie można dodatkowo zamontować mechaniczny endstop w osi Z, ale ja i tak przy każdym wydruku obserwuję początek aż do momentu, kiedy zaczyna się wydruk pierwszej warstwy. Zawsze można kliknąć "awaryjne zatrzymanie" lub odłączyć prąd. Na dodatek mój heatbed jest na sprężynach, co daje dodatkowy margines bezpieczeństwa (korzystałem już z niego kilka razy).
Konfiguracja
Konfiguracja firmware Repetier – te najważniejsze zmienne dotyczące samopoziomowania:
#define FEATURE_Z_PROBE 1
#define Z_PROBE_BED_DISTANCE 5
#define Z_PROBE_PIN 18   
#define Z_PROBE_X_OFFSET 43
#define Z_PROBE_Y_OFFSET -7
#define Z_PROBE_WAIT_BEFORE_TEST 0
#define Z_PROBE_SPEED 1    
#define Z_PROBE_XY_SPEED 150   
#define Z_PROBE_HEIGHT 8.5
#define FEATURE_AUTOLEVEL 1
#define Z_PROBE_X1 219
#define Z_PROBE_Y1 0
#define Z_PROBE_X2 55
#define Z_PROBE_Y2 0
#define Z_PROBE_X3 135
#define Z_PROBE_Y3 174
#define BED_LEVELING_METHOD 0
Sprawdzenie poprawności podłączenia wykonuje się poleceniem G31 – pokazuje się, czy oprogramowanie "widzi" reakcję czujnika na metal (stan niski czy wysoki).
Ważne jest ustawienie Z_PROBE_HEIGHT – to różnica wysokości pomiędzy punktem, w którym czujnik wykrywa metal, a pierwszą warstwą wydruku. Mierzyłem ją metodą prób i błędów. Po ustawieniu czujnika nad miejscem z taśmą aluminiową sprawdzałem w Repetier-Host wysokość Z na której czujnik reaguje na metal, a  później za pomocą ręcznej kontroli obniżyłem głowicę do punktu "0" i spisałem różnicę wysokości.
Z_PROBE_X1, Y1 itd to współrzędne pomiaru – czyli naklejonych kawałków aluminium –  przy czym trzeba podać miejsca, w których zatrzyma się głowica, a nie sensor – oprogramowanie Repetier sam przesunie głowicę na czas pomiaru tak, żeby nad punktem znalazł się czujnik indukcyjny. Z_PROBE_OFFSETX i Y to właśnie przesunięcie czujnika względem hot endu.
Oczywiście wszystkie te parametry wpisuje się w "konfiguracji EPROM firmware" – nie trzeba za każdym razem na nowo wgrywać firmware do drukarki.