Od kilku lat mam w domu kocioł CO z podajnikiem na ekogroszek (kocioł firmy Tekla ze sterownikiem Recalart Economic Premium). Niestety nie jest to zupełnie bezobsługowy system – pomijając konieczność dorzucania węgla, wybieranie popiołu i czyszczenie, jest jeszcze kilka innych problemów. Sterownik kontroluje ilość podawanego węgla, ale tak naprawdę z węglem nic nigdy nie wiadomo – wystarczy kupić groszek z innej kopalni i już są problemy, zdarzyło mi się już, że węgiel okazywał się tak koksujący, że pomimo obrotowego paleniska w piecu gasło i konieczne było przeprogramowanie sterownika (zwiększenie mocy nadmuchu, zmiana częstotliwości podawania węgla).
Najczęstszym problemem jednak jest to, że zapominam dosypać węgla do zbiornika.
Tak więc kocioł z podajnikiem to mnóstwo frajdy i biegania do piwnicy 🙂
Kiedy zacząłem interesować się Arduino i Esp8266 od razu przyszedł mi do głowy pomysł, by zdalnie monitorować temperaturę CO i ilość zużywanego węgla.
Wiem, że mogłem skorzystać z gotowych systemów IoT – tych darmowych serwisów online czy chociażby czegoś na RaspberryPi ale całość jest robiona bardziej dla zabawy niż z realnej potrzeby i chcę mieć swój własny system robiony od początku do końca przeze mnie (nawet, jeśli nie idealny).
Założenia mojego systemu w pierwszej wersji (od razu zakładałem, że nie ostatecznej) były takie:
Arduino łączy się przez wifi z moją siecią domową poprzez podłączony szeregowo Esp8266. Wysyła co określony czas temperatury i inne dane.
Podczas pracy nad programem zmieniłem jednak koncepcję:
1. Arduino z Esp8266 działa jako serwer WWW – dzięki temu nie muszę przeprogramowywać go, gdy na przykład chcę zmienić częstotliwość odczytów, albo gdy zmienię system w którym zapisuję dane.
2. Odczyty temperatury zbierane są na żądanie, po tym jak klient połączy się z nim. Całość oparta jest na magistrali 1wire – czujniki temperatury Dallas DS18B20. Dzięki temu wszystkie czujniki podłączam jednym dwużyłowym kabelkiem.
Każdy czujnik ma swój adres, który podawany jest przy odczycie – wiem który czujnik jest w jakim miejscu
W razie uszkodzenia mogę go po prostu wymienić, mogę też dołożyć kolejne czujniki i nie muszę modyfikować kodu.
3. Ilość węgla – podłączyłem ultradźwiękowy czujnik odległości. W założeniu ma on być przymocowany do klapy i mierzyć odległość do węgla. Nie przetestowałem tego jednak i zmieniłem plan – wydaje mi się że w zamkniętym zbiorniku nie będzie działał dobrze, na dodatek pył węglowy po jakimś czasie spowoduje problemy.
Zmieniłem plan, korzystając ze znalezionego gdzieś pomysłu – postanowiłem użyć starej ładowarki do telefonu podłączonej do zasilania silnika podajnika – będę mierzyć ilość kilogramów faktycznie podawanego węgla (ale to dalszy etap)
4. Mój sterownik kotła posiada funkcję obniżenia temperatury. Zwarcie styków (na przykład zdalnym termostatem) powoduje obniżenie temperatury (przydatne w nocy) – i właśnie to coś, czym chciałbym sterować z zewnątrz, na przykład ustalając obniżenie temperatury w nocy, lub też na podstawie temperatur w domu.
Sterownik kotła tak naprawdę reguluje moc grzania na podstawie temperatury panującej na zewnątrz, co nie zawsze dobrze przekłada się na temperaturę wewnątrz (wiatr, nasłonecznienie). Można dokupić zdalny termostat ale to właśnie coś, co mogę zrobić samemu i będzie to zdecydowanie bardziej "inteligentne" rozwiązanie.
Cały system zmontowałem w zeszłym roku i przez zimę sprawował się bardzo dobrze. Na razie mierzył tylko temperatury (wyjście gorącej wody z pieca, powrót zimnej oraz temperatura na zewnątrz domu). Po wejściu pod adres tego serwera otrzymywało się zestawienie adresów czujników i odczyty temperatur w postaci:
adres;temperatura|adres;temperatura|adres;temperatura|
Program odczytujący dane napisałem w PHP i uruchamiany był co kilka minut crontabem z serwera na którym trzymam tą stronę. Dane zapisywały się do MySQL.
Niestety największy problem całego tego systemu dotyczył układu Esp8266. Układ ten spisuje się świetnie, ale nie w przypadku gdy wykorzystuje się komendy AT. Znalazłem kilka różnych wersji firmware obsługujących AT – niektóre w ogóle nie działały, a jak już znalazłem działającą – to nie jest to stabilne. Trzeba by zapewne napisać bardzo rozbudowany program obsługujący na przykład wiele klientów (kilka jednoczesnych połączeń zawiesza cały mój "system") ale w tak prostym przypadku to nie ma znaczenia.
Zrobiłem więc bardzo prymitywne (i zapewne niezbyt poprawne) sprawdzanie, kiedy Esp8266 przestaje reagować i nie da się wyjść z pętli – wtedy Arduino po prostu resetuje się i wszystko wraca do normy. Arduino ma się też resetować co jakiś czas tak po prostu na wszelki wypadek (choć głownie dlatego, że nie przewidziałem "przekręcenia się" systemowego licznika milisekund).
To samo dotyczy komunikacji wifi – jeśli przez określony czas serwer nie otrzyma żadnego żądania, uznaje że coś jest nie tak i resetuje się.
Całość więc nie jest profesjonalna ani od strony technicznej, ani programowej, ale działa bez zarzutu. Zresztą nawet zawieszenie się układu zmusiłoby mnie co najwyżej do zejścia do piwnicy.
Kolejny problem to napięcia – Arduino pracuje na 5V a Esp8266 na 3V. Całość zasilam znaleziony gdzieś w sieci gotowy układem YuRobot, który podłączyłem do zasilacza 9V, na wyjściu USB jest 5V a na pinach 5V i 3V. Do tego konwerter sygnału logicznego do komunikacji Arduino-Esp8266 co komplikuje cały system.
Poniżej cały schemat i kod źródłowy, ale na ten sezon grzewczy chcę przygotować inną – znacznie uproszczoną wersję, poza tym mój plan pomiaru ilości węgla wymaga, żeby nie stosować przerw (delay) ale raczej prymitywnej "wielozadaniowości"  – żeby nawet w trakcie czekania system mógł monitorować podawanie węgla.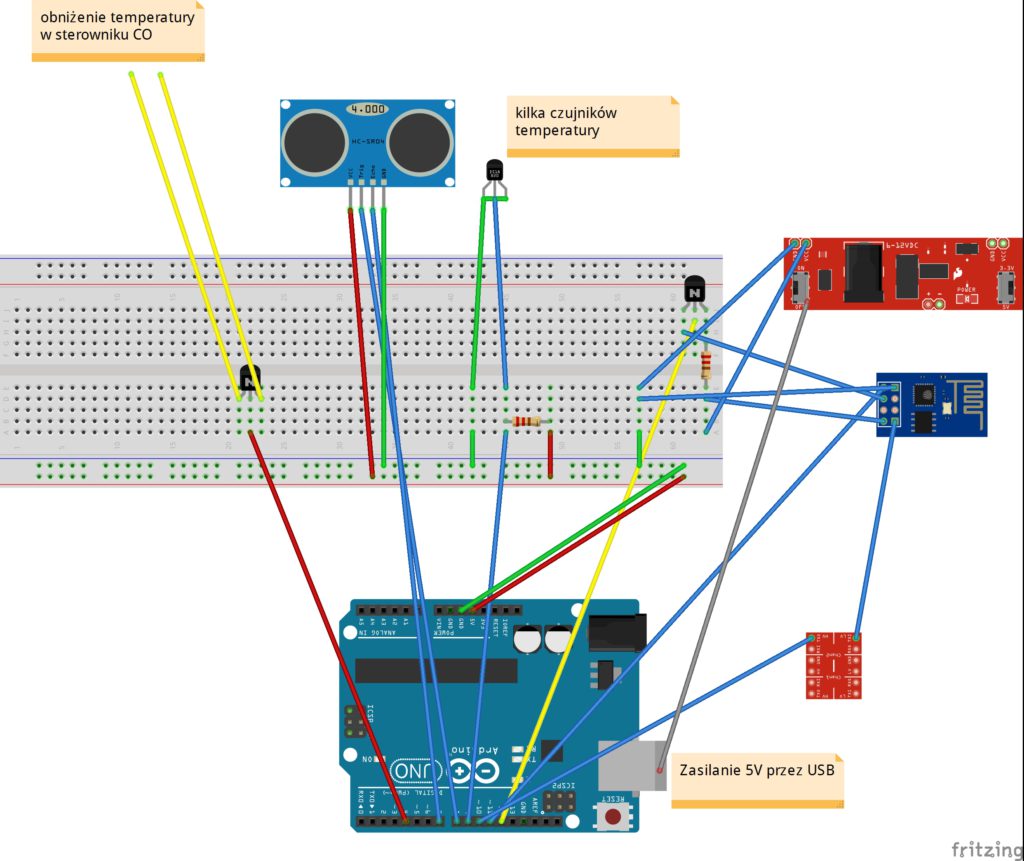 Do wyświetlania wyników pomiarów (jak już wspomniałem zapisywane są w MySQL) napisałem krótki program w PHP korzystający z Google Chart API. To chyba temat na inny wpis, ale wygląda to mniej więcej tak: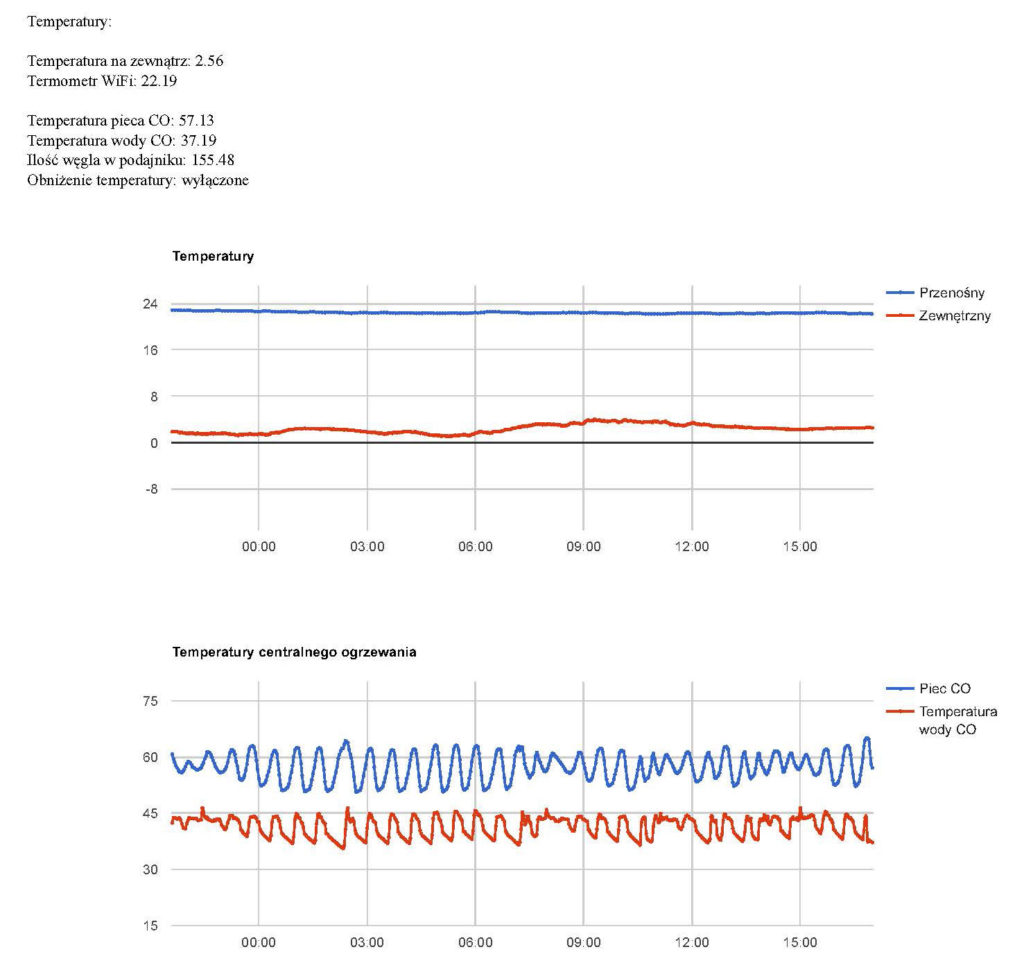 Tak wygląda cała instalacja po roku używania i zdjęciu (robię coś lepszego):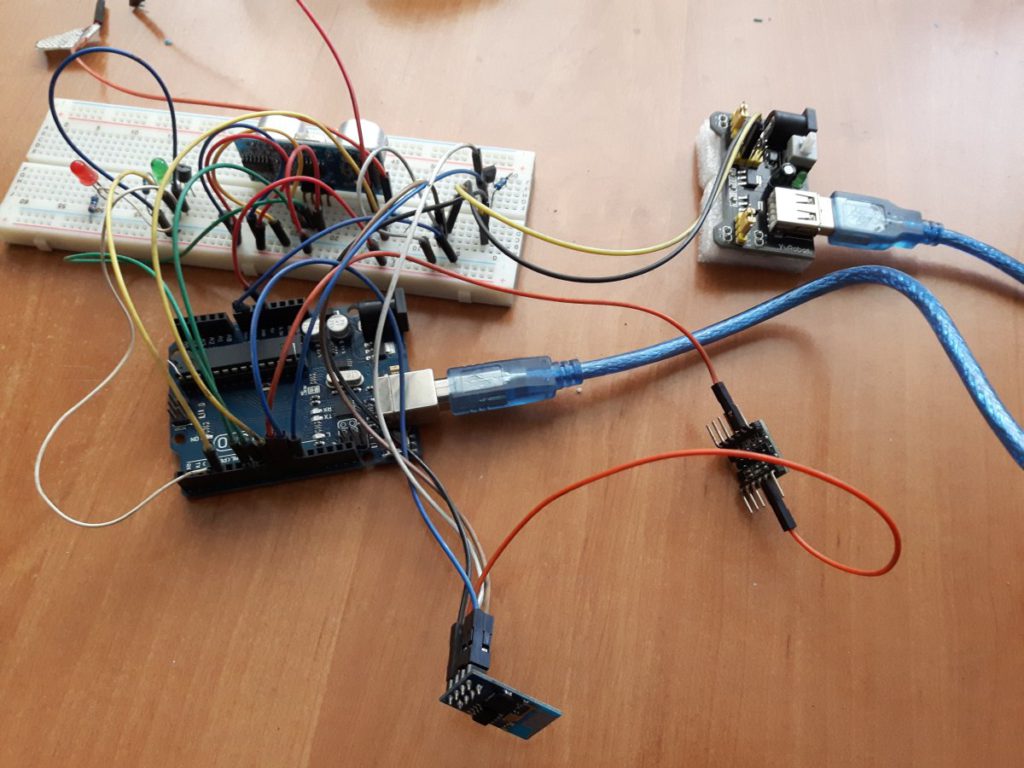 Kod źródłowy mojego programu na Arduino:
dodałem jeszcze mruganie diodą co określony czas (wizualnie widać czy działa) oraz gdy jest połączenie z zewnątrz.
// serwer www - po połączeniu z nim odczytuje dane, po czym wysyła je jako HTML
// adres;temperatura| - dane oddzielane ";", czujniki oddzielane "|"
// polaczenia z zewnatrz sa co 2 minuty, jesli przez kilka minut nie ma polaczen
// uklad restartuje sie na wszelki wypadek

#include <DallasTemperature.h>
#include <OneWire.h>
#include <SoftwareSerial.h>

#define SSID "MojeSSID"
#define PASS "MojeHaslo" //ha, mało brakowało, a bym je tu umieścił!


unsigned long czasodpolaczenia; //czas
unsigned long czaswylaczenia; // czas obniżenia temperatury pieca 
bool wylaczony; //obniżenie temperatury

#define ESPRESET 12  //pin resetujacy esp8266


#define DEBUGSERIAL Serial // debug

int Trig = 8;  //pin triggera czujnika odleglosci
int Echo = 7;  //pin echa czujnika
int illoop;  //ilosc petli - reset po zapetleniu



OneWire oneWire(9);
DallasTemperature czujniki(&oneWire);
byte ilurzadzen;
#define liczba_czujnikow 8
byte adresy [liczba_czujnikow][8];

#define SOFTSERIAL


SoftwareSerial ESP8266(11, 10);


String readData(const int timeout);

String sendATCommand(String command, const int timeout)  // wysyla polecenie AT do esp8266
{
#ifdef DEBUGSERIAL
  DEBUGSERIAL.println("P:");  //wyswietla wysylane polecenie  AT
  DEBUGSERIAL.print(command);
  DEBUGSERIAL.println("");
#endif

  String odp = "";  //odpowiedz z esp8266
  command += "\r\n";
  ESP8266.print(command);

  long int time = millis();

  while ( (time + timeout) > millis()) {
    while (ESP8266.available()) {
      char c = ESP8266.read();
      odp += c;
    }
  }

#ifdef DEBUGSERIAL
  DEBUGSERIAL.print("Odp:\"");
  DEBUGSERIAL.print(odp);
  DEBUGSERIAL.println("\"");
#endif

  //odczyt odpowiedzi z esp8266 i reset przy błędach -----------

  if (odp.indexOf("busy p...") > -1) {
    resetModule();
    moduleInit();
  }

  if (odp.indexOf("FAIL") > -1) {
    resetModule();
    moduleInit();
  }

  if (odp.endsWith("ERROR\r\n")) {
    resetModule();
    moduleInit();
  }

  return odp;
}



String readData(const int timeout) {
  String response = "";
  long int time = millis();
  while ( (time + timeout) > millis()) {
    while (ESP8266.available()) {
      char c = ESP8266.read();
      response += c;
      time = millis();
    }
  }
  return response;
}





void resetModule() {  //reset esp8266
#ifdef DEBUGSERIAL
  DEBUGSERIAL.println("Reset");
#endif
  digitalWrite(ESPRESET, LOW);
  delay(250);
  digitalWrite(ESPRESET, HIGH);
  delay(3000);

}

void reboot() {     //restart arduino

#ifdef DEBUGSERIAL
  DEBUGSERIAL.println("restart");
#endif


  mrugnij(30, 50);
  delay(1000);
  asm volatile ("  jmp 0");
  mrugnij(30, 100);
}





boolean connectWiFi() {
  digitalWrite(ESPRESET, HIGH);
  delay(1000);
  sendATCommand("AT+CWMODE=1", 3500);
  String cmd = "AT+CWJAP=\"";
  cmd += SSID;
  cmd += "\",\"";
  cmd += PASS;
  cmd += "\"";
  String response = sendATCommand(cmd, 8000);
  if (response.indexOf("OK") != -1) {
#ifdef DEBUGSERIAL
    DEBUGSERIAL.println("Wifi ok");
#endif
    return true;
  }
#ifdef DEBUGSERIAL
  DEBUGSERIAL.println("Blad Wifi");
#endif
  return true;  //false
}





void startWebserver() {
#ifdef DEBUGSERIAL
  DEBUGSERIAL.print("Serw");
#endif
  String response = sendATCommand("AT+CIFSR", 500);

#ifdef DEBUGSERIAL
  DEBUGSERIAL.println(response);
#endif

  sendATCommand("AT+CIPMUX=1", 1000);
  sendATCommand("AT+CIPSERVER=1,80", 1000);

#ifdef DEBUGSERIAL
  DEBUGSERIAL.println("Gotowy");
  delay(1000);
#endif
}







void moduleInit() {

#ifdef DEBUGSERIAL
  DEBUGSERIAL.println("Init");
#endif


#ifdef DEBUGSERIAL
  DEBUGSERIAL.println("Laczenie");
#endif

  boolean connected = false;
  for (byte i = 0; i < 8; i++) {
#ifdef DEBUGSERIAL
    DEBUGSERIAL.print("Proba:");
    DEBUGSERIAL.println(i + 1);
#endif
    if (connectWiFi()) {
      connected = true;
      break;
    }
  }

  if (!connected) {
#ifdef DEBUGSERIAL
    DEBUGSERIAL.println("Blad pol.");
#endif
    reboot();
  }

#ifdef DEBUGSERIAL
  DEBUGSERIAL.println("AP ok");
#endif
  mrugnij(30, 50);
  startWebserver();
}





void setup() {

  czasodpolaczenia = millis();

#ifdef DEBUGSERIAL
  DEBUGSERIAL.begin(9600);
#endif
  ESP8266.begin(9600); //
  pinMode(4, OUTPUT);
  pinMode(5, OUTPUT);

  pinMode(Trig, OUTPUT);
  pinMode(Echo, INPUT_PULLUP);
  digitalWrite(4, LOW);
  digitalWrite(5, LOW);

  czujniki.begin();
  moduleInit();
    wylaczony = false;
}





void loop() {



  if (millis() > 250000000)    //reset arduino co jakis czas, na wszelki wypadek, zeby uniknac przekrecenia licznika millis
  {
    resetModule();
    reboot();
  }

  if (czasodpolaczenia + 300000 < millis()) //reset jesli nikt sie z nami nie laczy' od dawna - cos jest nie tak
  {
    resetModule();
    reboot();
  }

  if (wylaczony) {
    if (czaswylaczenia + 200000 < millis()) //wylaczenie obnizenia temp. po zadanym czasie
    {
      digitalWrite(4, LOW);
      wylaczony = false;
    }
  }


  if (ESP8266.available()) {
    String resp = readData(2000);
    int i = 0, j = resp.indexOf('\n');
    if (resp.indexOf("GET") == -1) return;

    while (j > -1 && j <= resp.length()) {
      String line = resp.substring(i, j);

      // odczyt linii przeslanej w HTTP
      if (line.indexOf("GET") > -1) {
        digitalWrite(3, HIGH);   //zapalenie diody oznaczajacej polaczenie
        String url = line.substring(line.indexOf("GET") + 4, line.indexOf("HTTP/1.1") - 1);
        int connectionId = line.substring(5, line.indexOf(",", 5)).toInt();



        // wylacznik pieca ------------------------------------------


        if (line.indexOf("wylacz") > -1)  //sprawdzanie, czy adres zawiera "wylacz", "wlacz"
        {

          digitalWrite(4, HIGH);          //wylacz piec
          czaswylaczenia = millis();
          wylaczony = true;
        }
        else if ((line.indexOf("wlacz") > -1)  )
        {
          digitalWrite(4, LOW);          //wlacz piec
          czaswylaczenia = millis();
          wylaczony = false;
        }





        // czujniki ---------------------------------- generowanie odpowiedzi z temp. - onewire
        czujniki.requestTemperatures();
        wyszukaj_adresy();

        String  response = "<h3>";

        for (byte i = 0; i < ilurzadzen; i++) //petla czujnikow temperatury
        {

          float tempC = czujniki.getTempC(adresy[i]);
          response += adres(adresy[i]);
          response += ";";
          response += (String)tempC;
          response += "|<br>";
        }


        // odleglosc ----------------------------------  pomiar odleglosci czujnikiem ultradzwiekowym

        float Distance = 0;

        digitalWrite(Trig, LOW);
        delayMicroseconds(2);

        digitalWrite(Trig, HIGH);
        delayMicroseconds(10);
        digitalWrite(Trig, LOW);

        // Odczyt odległości
        float  EchoTime = pulseIn(Echo, HIGH);

        Distance = EchoTime / 58; //obliczenie odleglosci

        response += "odl";
        response += ";";
        response += (String)Distance;
        response += "|<br>";

        Serial.println("odl: " + (String)Distance);




        // wysylanie odpowiedzi przez HTTP ---------------------------------

        String      cipSend = "AT+CIPSEND=";
        cipSend += connectionId;
        cipSend += ",";
        Serial.println(response.length());
        cipSend += response.length();


        sendATCommand(cipSend, 500);

        ESP8266.print(response);
        resp = readData(1500);

        String closeCommand = "AT+CIPCLOSE=";
        closeCommand += connectionId;
        sendATCommand(closeCommand, 800);
        czasodpolaczenia = millis();
        digitalWrite(3, LOW); //dioda oznaczajaca polczenie - wylaczenie
        break;

      }

      i = j + 1;
      j = resp.indexOf('\n', i);
      if (j == -1) j = resp.length();
      {
#ifdef DEBUGSERIAL
        DEBUGSERIAL.println("InfL");
        illoop++;
        if (illoop > 50) {   //tak na oko sprawdzam, czy się nie zapętliło (problem z esp)
          illoop = 0;        // w razie czego restart i po problemie
          resetModule();
          reboot();
        };
#endif
      }// inf loop

    }
#ifdef DEBUGSERIAL
    DEBUGSERIAL.println("BrL");
    mrugnij(3, 80); //jeszcze kilka mrugniec, ze wszystko ok
#endif
    illoop = 0; //reset licznika petli
  }
}




byte wyszukaj_adresy()  //wyszukiwanie podlaczonych czujnikow oneWire
{
  byte j = 0;
  while ((j < liczba_czujnikow) && (oneWire.search(adresy[j])))
  {
    j++;
  }

  ilurzadzen = j;
  return j ;
}


String adres(DeviceAddress addr)    //tworzenie tablicy z adresami czujnikow
{
  byte i;
  String adres;
  for ( i = 0; i < 8; i++)
  {
    adres += String(addr[i], HEX);

  }
 
  return adres;
}


void mrugnij(byte ilosc, int czas)   //mruganie diodą
{
  for (int i = 0; i <= ilosc; i++)
  {
    digitalWrite(3, HIGH);
    delay(czas);
    digitalWrite(3, LOW);
    if (i > 0) {
      delay(czas);
    }
  }
}